For initial appointments and general information, please call our office at (216) 297-9779. Follow up appointments and communication about your pet's care are generally scheduled directly with Dr. Shelley via cell phone.
Initial Visit
Examination, get-to-know-you, and first adjustment: $140 (approx. 1 hour).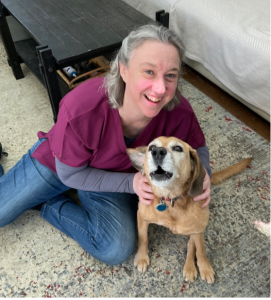 Dr. Shelley does most New Animal Patient visits in the client's home. This is easiest for the dog, and allows time and space for a thorough evaluation and plenty of conversation. During this visit, a complete medical history will be taken and physical and neurological exams will be performed. We may also take photos and/or video of your dog. Based on those findings, Dr. Shelley will make recommendations regarding the frequency of adjustments needed to help your dog through whatever challenges they are experiencing, and set up a schedule of appointments to maximize your results.
Follow-up visits
Individual adjustments: $75 (15-20 min.)
Follow up visits usually take 15-20 minutes, but we will ask you to allow half an hour. During these visits we will discuss your pet's response to care, evaluate their progress, and perform another adjustment. It is important to know that each visit builds upon the work previously done, and the results are cumulative over time.
Photo credit @shakerhoundacademy